NOTE: Flash animations will not play on iPads and other tablets, as this feature is not supported. Until this changes animated GIFs are the only animations that will work on iPads and other tablets.
FLASH animations can be mixed with regular HTML websites to add some movement and even demonstrate a product's function. 
If you have a business where you supply data on CD/DVD, you could include a Flash presentation to advertise your business, with links to your website & email,etc. Sometimes CD/DVDs are copied or shared by many people, including potential customers. With a couple of clicks of a mouse to any CD/DVD you create, you can add your own Flash presentation, giving you practically FREE ADVERTISING.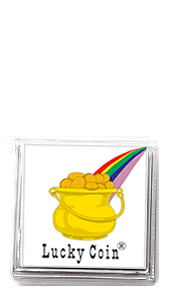 The Lucky Coin animation above is an animated GIF viewable on tables and computers.
The flash animations below are viewable ONLY on computers and NOT on iPads or other tablets.