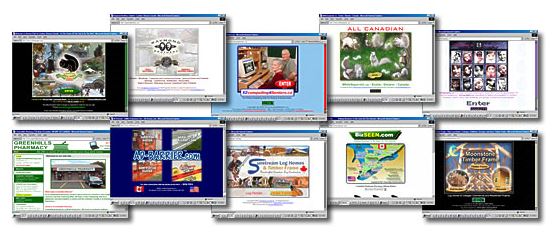 How Can a Website Help Your Business?
We can develop an affordable website, balancing creativity with strategy, to perform the following functions for your business:
Showcase and sell your products
Provide detailed information on your products or services
Recruit new clients, members, or employees
Enhance your firm's image – "YourCompany.com"
Take orders or obtain customer feedback online
Profile your firm's abilities or key attributes online
Manage your company's email
Allow your customers easy access to needed information
Act as a great support mechanism for your firm's advertising efforts, listing your web address
Show a map of your location
List hours of operation
List telephone, fax, and email address
Better serve your customers
Secured areas for members or employees
Online video and audio messages
Online coupons and discounts
Use PayPal with ADD TO CART or BUY NOW buttons to sell products instantly
If you are in business to do business,
you need a website with the

Virtual Edge!
How Can a Blog Site Help Your Business?
A blog can do everything a static website can do and more. Having a site created on the WordPress platform can make use of social media and search engines and be updated with news and postings of interest to customers or people with a shared interest. Once a blog site is set up, you the customer can add to and maintain the site, producing a cost savings.
A few of our own blogs did over one million visitors and over 3.25 million page views for 2012. We also have regular visitors that have signed up for our email feed and get a daily email of new postings.

One blog caught the attention of TLC – The Learning Channel, a USA television network, and we were the first Canadians to be featured on one of their TV series. Every time the show re-airs a few times a year, our online orders from our sites spike, and we find money waiting for us in our email inbox. The show acts like an infomercial without costing us a cent. Just imagine the value of the air time, sometimes in prime time.
We have another blog WinBig.ca that caters to just the Canadian lottery market. We do some cross promotions on LotterySquirrel.com and make use of some banners below and a few others found here. With $50+ Million Lotto MAX jackpots and some monster Powerball and Mega Millions jackpots in the recent past, these sites attract a lot of traffic.




We also promote charitable lotteries and photograph the dream homes at no charge, dropping our mascots into the photos. With many of these lotteries running a few times a year, we have many return and new visitors daily. We can average between 2, 500 to 20,000+ visitors a day. Our postings sometimes show up in Google in under 10 seconds. Even doing a posting announcing a site we just finished and listing your web address can mean your site will be indexed and showing up in Google very quickly, even if it is not related to the blog.