About Ric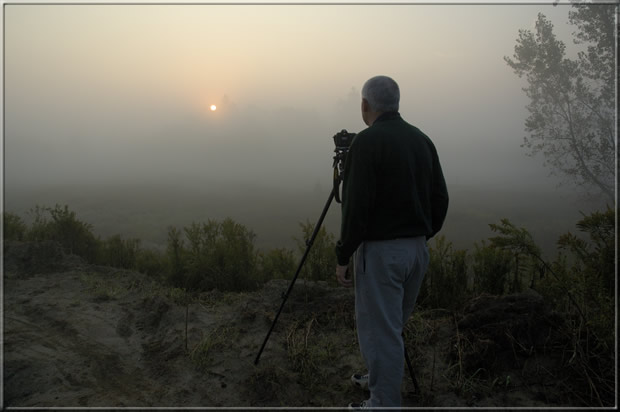 Ric sees the world in pictures. From sunsets and stunning landscapes to architecture, product photos and people at work or play, Ric has the talent to tell a story without saying a word. He speaks through the images he creates, whether for business or pleasure.
Ric began sharing his love of photography when he started taking pictures for his high school yearbook. By his final year of school, he was processing and printing all the pictures for the yearbook.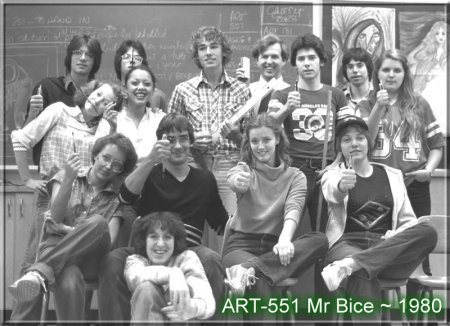 From there, Ric spent three years studying photography in college, graduating with honors and receiving a few notable awards. After college he spent nearly three years working for Canada's 40th largest advertising agency before leaving to start his own commercial photography business. His business eventually led to incorporating computers as a tool for web design, digital imaging, computer graphics and digital video. His computer work has expanded to include designing flyers, ads, newsletters, and annual reports.
Not a stranger to promotion, Ric has been mentioned in over a hundred newspapers in Canada and the U.S. and been on CBC radio 12 times in Vancouver, Toronto, Ottawa, and Montreal. He has been interviewed by various other radio stations across Canada and the U.S., and has even been featured on an episode of an American TV show on the TLC network. His photography has appeared in print in various magazines, newspapers, and annual reports.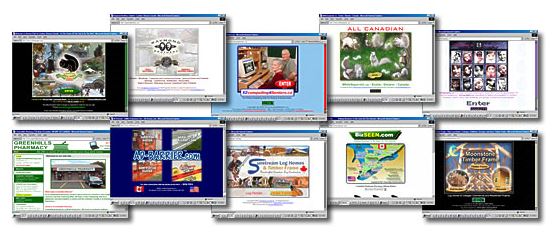 Besides seeing the world in pictures, Ric also has the ability to visualize. When faced with the challenge of creating or redesigning a website for a customer, he uses this ability to visualize the desired outcome and provide a winning solution for his client. His ability to visualize was featured on the TLC show.
A master of promotion, Ric has learned to attract free media exposure, translating that into dollars. These same skills he'd mastered for his own success, he has used to assist others in promoting their business ventures.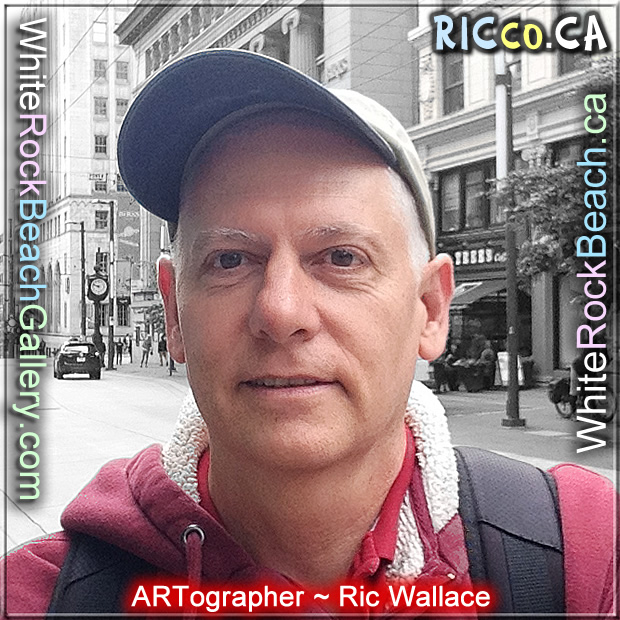 Biography
Ric Wallace considers himself to be an ARTographer, which he defines as someone with a strong background in photography, as well as an aptitude for graphic design and the ability to combine the two into one art form, digitally, on a computer.
Click for Larger View
On the photography side, Ric has mastered lighting, composition, and the ability to see the world from a non-traditional viewpoint. He often incorporates shapes silhouetted in photographs for impact and visual interest.
Often when taking a photograph, he thinks more like an artist or an art director than a photographer. Ric doesn't just see the image before him; he visualizes its future use in a variety of products and/or media. He knows how to attract attention in order to promote his ARTography.
In 2011, he travelled by car three time zones as far west as he could in Canada until he reached Tofino, BC on the west coast of Vancouver Island. He started working his way back in the direction of Ontario and happened to visit White Rock, BC – a place he had never heard of before. With August temperatures of 21 to 23C, White Rock was very appealing compared to southwestern Ontario temperatures of 40 to 50C with humidity and hail storms. As a bonus, Ric even found they grew palm trees here! Spending just one winter in White Rock convinced Ric to stay and make the west coast his new home.

Back in 1995, Ric's love of nature photography – and, in particular, wildlife – led him to create an entire line of photographs dedicated to white squirrels. He marketed those images locally, but it was time to try online promotion. And so, it was the white squirrels that created a need for him to learn website design. After 26 years, he is still actively promoting his white squirrel photographs.
What he did for the white squirrels, he saw an opportunity for the "white rock" that gave this community its name. Three of his blogs/websites had over 1.25 million visitors in 2012 alone!
Even though White Rock Beach is a popular destination, Ric Wallace believes the opportunity for increased tourism is unlimited. After all, White Rock is known as "the hole in the sky," so the sky is NOT the limit – the moon or the stars are!

---
Curriculum Vitae for Ric Wallace
Currently lives and works in White Rock, BC
Education
Fanshawe College of Applied Arts and Technology
1983 Advanced Photography Diploma
1982 Photography Diploma
Televised Appearances
2019 CBC TV & radio
2015 Discovery's Family Channel (U.S. network show)
2014 go! Vancouver (now known as go! West Coast) segment on White Rock
2010 TLC (The Learning Channel) U.S. network show
2004 – 2010 A-Channel News, London, ON
2004 Rogers Cable 13
1987 TV Mini-Series Amerika – Appeared as an orderly operating a stretcher from an ambulance (met and photographed Kris Kristofferson)
Stage Appearances
When I was in grade 3, I appeared as Tiny Tim in a grade 8 production of Dickens' A Christmas Carol


Newspapers and Magazines
2018 – 2020 Peace Arch News, Tofino-Ucluelet Westerly News, Penticton Western News, Creston Valley Advance, Surrey Now-Leader, Victoria News2019 Woman's World
2015 Nanaimo Daily News
2015 Peace Arch News – (fireworks photo on front cover in colour)
2014 Woman's World
2013 Peace Arch News
2012 The Now Newspaper
2011 The Globe and Mail
2002 – 2010 The London Free Press
2006 Harrowsmith Country Life
1994 National Post
Other media in both Canada and the United States
CJBK AM radio – London, Ontario
AM 980 – London, Ontario
CBC Radio more than a dozen times – Toronto, Ottawa, Montreal, Vancouver
WAKR – Akron, Ohio with Ron Horner
Canadian Newspapers in Exeter, St Catherines, Milton
American Newspapers: Akron Beacon, Daily Kent Stater, Record-Courier, The Miami Herald, Philadelphia Daily News, The (Columbia, S.C.) State, The (Monterey County, Calif.) Herald, Rubbercity.com, BGnews.com, timesleader.com, Macon.com, siliconvalley.com
Various websites: Canoe.ca, Walletpop.com / Dailyfinance.com, TheGlobeandmail.com
Volunteer Photography
1998 – 2006 Habitat for Humanity of London, ON: provided photography to fully document yearly builds
Promote White Rock Beach and your name / business / website to the WORLD. Ideal for hotels, motels, bed and breakfasts, real estate agents, restaurants, gift shops, dentists, or any business catering to tourists or newcomers to British Columbia. Using the White Rock name in your business name - get the goodwill of investing in your local neighborhood.
Our premium sponsored postcards are printed on a thicker whiter stock, standing out from other postcards on the market. Want to sponsor a custom postcard with colour theme, subject, view, etc? Contact Ric Wallace and he will come up with an idea. Below are samples sponsored postcards with text printed on 5,000 postcards. CLICK HERE to see all current postcards.
---
New postcard designs (to be printed) are listed with a Read more button.
---
Sponsor and receive postcards to sell* for $1.50 or give away:
5,000 postcards

OPTION A

for

$750*

 

You get

1,000 

postcards

Sell for $1.75 (cost 75 cents each for the ones you receive) and make a

profit of $1,000

($1.00 each)

directly from your advertising. 
4,000 postcards will be sold online & though various retailers and at the beach

*

with your name on the back of the postcards.

5,000 postcards

OPTION B

 for

$650*

 

You get

500 

postcards - giving you more exposure through the WhiteRockBeach.ca postcard network and saving $100 over

OPTION A

.

Sell for $1.75 (cost $1.30 each for the ones you receive) break even and netting

FREE advertising & $225 Profit

for your business.
4,500 postcards will be sold online &  though various retailers and at the beach

*

with your name on the back of the postcards.

5,000 postcards

OPTION B

 for

$550*

 

You get

250

postcards - giving you more exposure through the WhiteRockBeach.ca postcard network and saving $200 over

OPTION A

.

4,750 postcards will be sold online &  though various retailers and at the beach

*

with your name on the back of the postcards.

 10,000 postcards for

$1,400*

You get

4,000

 postcards

Sell for $1.75 (cost 35 cents each) and make a profit of

$5,600

 

(1.40 each) directly from your advertising.
6,000 postcards will be sold online & though various retailers and at the beach

*

with your name on the back of the postcards.

NOTE: Sponsored postcards sold through retailers, online or at the beach are

non profit sharing

; sponsors benefit by having their name on our products. Reprints have a minimum order of 5,000 as they have proven to be a good seller.

There are other conditions that apply to sponsor a WhiteRockBeach.ca postcard.

Contact Ric Wallace for details. Interested in postcards not under the WhiteRockBeach.ca brand? Ric Wallace can create one for you. Sponsored postcards can also be sold as WhiteRockBeach.ca greeting cards.
White Rock photographer Ric Wallace has produced over 300 White Rock Beach (more planned for 2018) and 50+ Wildlife of Canada postcard and greeting card designs. Due to increases in production costs and not wanting to raise prices in stores, he is seeking sponsors to help offset production and printing costs. Ideal for individuals and families wanting to have a memorial keepsake or businesses wanting a unique opportunity to maybe gain more recognition by having their business name and website purchased by local residents and tourists as keepsakes or to be mailed around the world.
You can sponsor a current postcard in need of a reprint or a new design. Interested sponsors with the highest sponsoring level will be given first choice.
Want to see and receive some samples or more info? Contact Ric Wallace.