#1 ->>> Walk the 1,500 foot pier
and slap the back railing.
#2 ->>> Rub the world famous
486 ton White Rock for

LUCK
.
(people also like to climb, hug or get their photo taken in front of or on top of the rock)
Advertisements

SECURITY SYSTEM STICKERS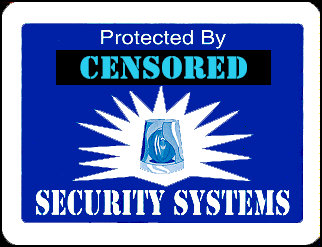 Alarm-Stickers.com
is selling
ALARM STICKERS
in
6-packs, 10-packs, 15-packs & 30-packs
, which is enough to give door an window protection for an small sized homes, larger homes, cottages, or businesses.
*The name appearing on the stickers has been censored to prevent would-be thieves looking for a particular name. **The stickers are white and blue and do not pulsate; the above image is for illustration purposes only*
Postcard King Ric Wallace has produced over 101 White Rock / South South postcards and greeting cards with NO TAX dollars or funding. Theses products support the efforts of WhiteRockBeach.ca. Stop by and get your photo taken for FREE.
Promote White Rock Beach and your name / business / website to the WORLD. Some of our sponsors include White Rock Pharmacy, White Rock Photo, José & Co. Custom Jewellers
Ideal for individuals and families wanting to have a memorial keepsake or businesses wanting a unique opportunity to maybe gain more recognition by having their business name and website purchased by local residents and tourists as keepsakes or to be mailed around the world.
These are some of the current White Rock Beach & area postcard retailers:
Save On Foods (Semiahmoo Shopping Centre) 1641-152nd Street, Surrey, BC V4A 4N3
White Rock Pharmacy

,

102 – 1440 George St.,

White Rock

BC

V4B 4A3

WhiteRockBeach.ca- Buy Online - We ship worldwide
The White Rock Beach Gallery - Waterfront Promenade Gallery – (weather permitting)
Mr White Rock - Ric Wallace 604-259-0105 - VISA, MasterCard, Debit & CASH
Sunnyside Evergreen Pharmacy - 2397 King George Blvd. Surrey BC V4A 5A4
Whitby's Books and Gifts - 14877 Marine Drive, White Rock BC V4B 1C2
Canadiana Gifts - 14853 Marine Drive, White Rock BC V4B 1C1
Oriental-Link Enterprise LTD. 14969 Marine Drive, White Rock BC V4B 1C3

Heavens Angels Gifts & Gelato

15557 Marine Drive Dr White Rock, V4B 1C9
NOTE: Some retailers will have limited postcard selections due to space. PLEASE NOTE: The White Rock Museum does NOT sell our products (turned down 3 times) as they have no interest in our products. Please support the above local businesses that support out efforts.
This is the
ONLY location
you can see most of the
118+ White Rock / South Surrey postcards
& greeting cards on display at the same time (even the winter and Christmas postcards - weather and time permitting).