This photo was taken opening day at Windows on the Water Gallery Ltd. 14971 Marine drive, White Rock BC V4B 1C3. Store manager Priscilla was nicely dressed, and Lucky snapped this photo of her left foot with his iPod as joke.

With Lucky being a master marketer, and knowing people will buy just about anything when you call it ART, he reached a deal with Debra Warman, owner of Windows On The Water Gallery Ltd. They have offered all the money from the sale of these prints to buy peanuts for the squirrels and crows of White Rock Beach, BC. When LUCKY first walked in and handed his new business card showing the Lucky Coin V3.0 with the famous White Rock on it, Priscilla said, "I saw you on TV." She is an expert on the Lottery Charm® Story. Send us a photo holding this print and we will display it on the WhiteRockBeach.ca website.
About the Artist / Photographer / Lottery Squirrel / Luckologist
Lucky the Lottery Squirrel was born in the small town of Exeter, Ontario Canada famous for their White Squirrels –WhiteSquirrels.ca. One fall day, photographer Ric Wallace made a trip to photograph the White Squirrels in McNaughton Park but did not see any white squirrels in sight; instead there was a grey squirrel down the river embankment standing on his hind legs begging to be photographed. Lucky was upset how the white squirrels were always getting the attention and the peanuts. When Ric Wallace decided to turn LotterySquirrel.com into a blog, he needed a COOL looking mascot, and LUCKY was signed as the OFFICIAL SPOKES SQUIRREL. LUCKY's girlfriend Sugar-toes was happy for LUCKY but upset she was not included. After a marathon of negotiations, 5 pounds of peanuts and 4 jars of peanut butter, it was decided LotterySquirrel.com would have 2 mascots.

This symbiotic relationship between Ric Wallace and these 2 Lottery Squirrels created the Squirrel Empire that exists today and operates out of White Rock Beach, BC and ships worldwide.
Advertisement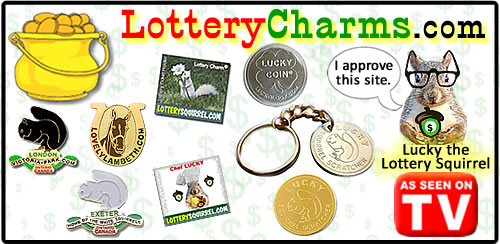 A
Lucky Black Squirrel
(Lottery Charm®) pin was used to hold the winning grand prize ticket for the lottery (previously known as
Dream Of A Lifetime Lottery
) on a corkboard in the office of LotteryCharms.com® creator Ric Wallace.
Windows on the Water Gallery Ltd. 14971 Marine drive, White Rock BC V4B 1C3