If you run a website or blog and monitor your traffic and see massive visits from all sorts of places around the world like what semalt.com and baidu.com are doing, you should consider blocking them from your site. What they are doing is affecting your bandwidth and making requests from your server that can slow your site down and cause problems for your provider.
Advertisement
Beijing arrived from baidu.com on "Lottery Power ~ New research proves that lucky charms DO actually work".
Advertisement
In the control panel for your site look for the Security settings.

 IP Deny Manager
This feature will allow you to block a range of IP addresses to prevent them from accessing your site. You can also enter a fully qualified domain name, and the IP Deny Manager will attempt to resolve it to an IP address for you.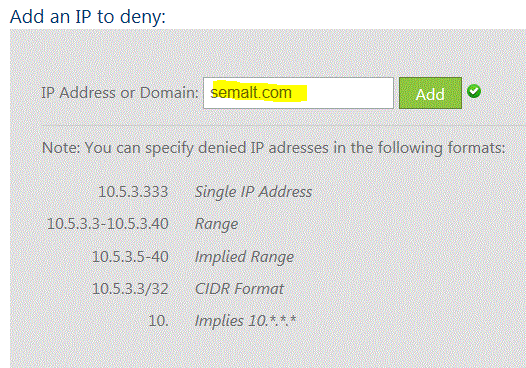 IP Deny ManagerUsers from the IP address(es) semalt.com will not be able to access your site.
You should be monitoring your Error Log

This function will display the last 300 errors for your site. This can be very useful for finding broken links or problems with missing files. Checking this log frequently can help keep your site running smoothly.
Last 300 Error Log messages in reverse order:
Here is one suspicious error:
[Sun Feb 16 14:26:47 2014] [error] [client 122.146.39.66] script '/home/public_html/phpTest/zologize/axa.php' not found or unable to stat.
General IP Information
Geolocation Information
| | |
| --- | --- |
| Country: | Taiwan |
| State/Region: | T'ai-pei |
| City: | Taipei |
| Latitude: | 25.0392  (25° 2′ 21.12″ N) |
| Longitude: | 121.525  (121° 31′ 30.00″ E) |
Using the IP deny feature, I copy the IP address 122.146.39.66  and delete some of the numbers on the right to end up with

122.146.
This will block a large range of IP addresses from this hacker.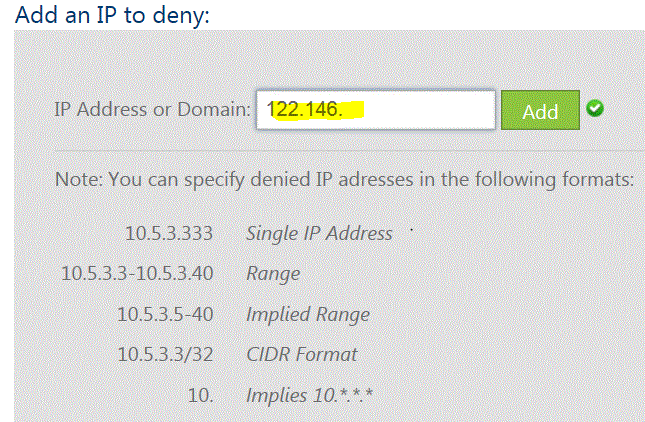 If you run WordPress, the Block Country or IP is a very handy plugin. If you have a site and only want to maybe have sales to Canada, the United States, United Kingdom, Australia, etc your can block what countries you do NOT want on your site. For example if in your error logs you find hacking attempts from Korea, Taiwan, Russia, Ukraine, Turkey, etc you can block them from accessing your site.
Set country or IP address to block website.
Block Country Plugin
Set country and IP to block your website. You can also set IP address to unblock for any special IP Address.
Upload 'block-country' to the '/wp-content/plugins/' directory
Activate the plugin through the 'Plugins' menu in WordPress
Click on the Block Country
You can choose your country, IP address to block and enter your message. You can aslo set IP address to unblock for blocked country.
Click on "Submit" button.